[outfit_details]
With temperatures in the high 70s, I spent all weekend embracing the best treat of the season – ice cream!
Last year, I posted 5 Ice Cream Stands To Visit In Connecticut. A few hours after the post went live I was flooded with suggestions for a follow-up post. When deciding how to showcase New England's dairy farmers for summer, I knew our favorite topic of ice cream would be a sweet spot.
Last weekend our crew loaded up the car and went east to Wright's Dairy Farm & Bakery. Wright's uses the milk from their cows to create tasty treats – everything from wedding cakes to Rhode Island's signature coffee milk – and of course ice cream!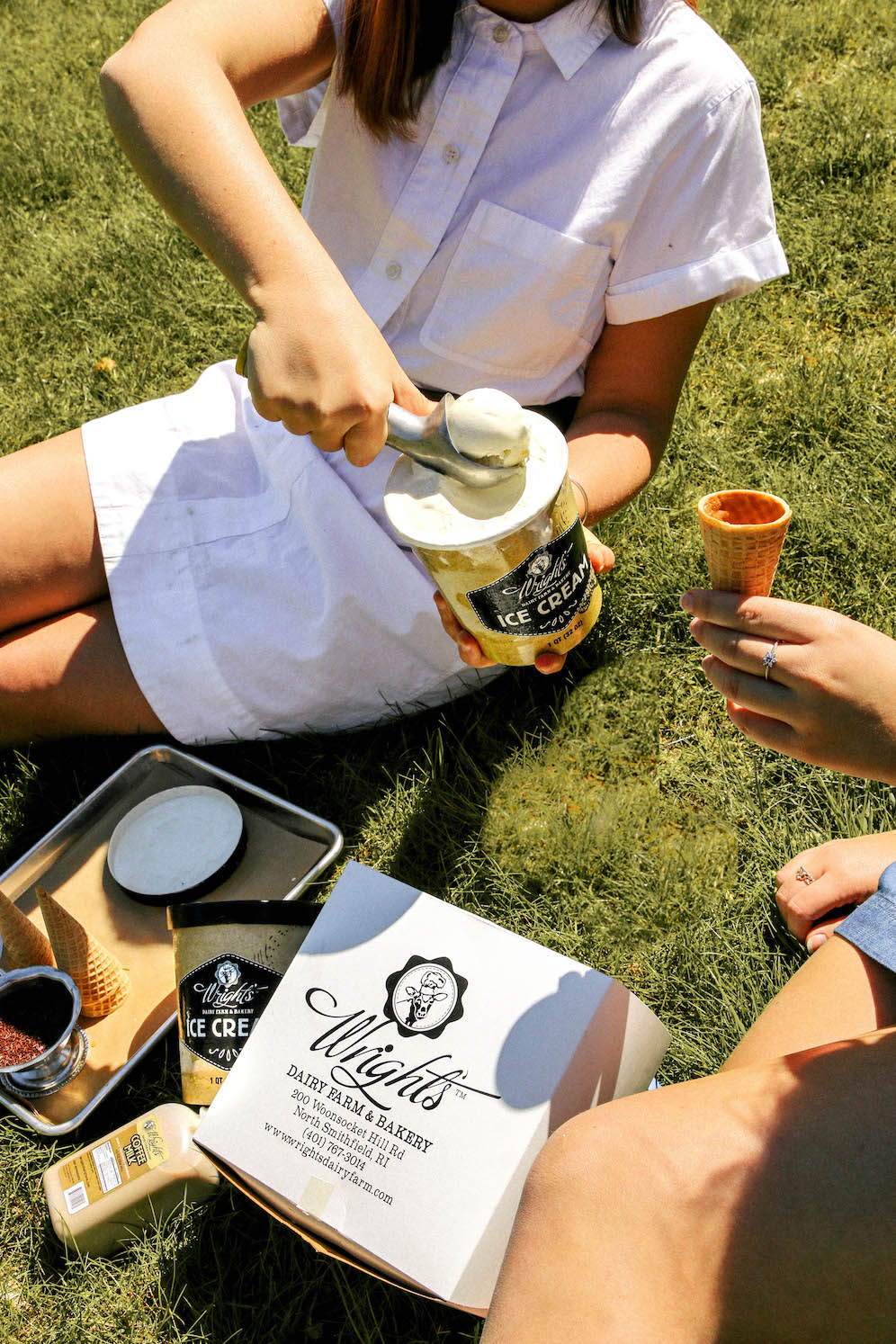 Dairy farms are my favorite place to enjoy ice cream! You never know what new flavors, texture or products you'll pick up. Most batches are churned onsite by the farming families and flavors may incorporate the freshest in-seasonal fruit. Ice cream made with real, wholesome dairy just hits the spot and it's a very tasty way to support your local dairy farmer.
New England dairy farms are a truly unique experience. Visitors can anticipate Instagram-worthy backgrounds – just like Wright's Dairy Farm & Bakery – to baked goods, merchandise, and live farm animals.
Back in March, our crew visited Vermont to showcase how dairy farmers, like Richardson Dairy Farm. protect historic farmhouses, barns, and sugarhouses – all while fostering maple season. New England dairy farmers are responsible for much more than the milk in your morning latte. They produce the cheese we toss on our pizza, heavy cream for whip-topped desserts, and delicious ice cream to indulge in all summer long.
5 Dairy Farms to Visit For Ice Cream In New England:
---
From wedding cakes to ice cream galore, Rhode Islander's having been visiting Wright's since 1914. Wright's Dairy Farm & Bakery now has two ice cream locations one in North Smithfield & now one in Warren! I've gone ahead and listed the addresses for each below:
📍200 Woonsocket Hill Rd. North Smithfield, RI
📍335 Water St. Warren, RI
2. Arethusa Farm – Litchfield, Connecticut
This modern dairy farm is the perfect place to stop for an old-fashioned ice cream cone. With seasonal flavors such as peach, maple walnut, and pumpkin with ginger molasses cookies, you'll be sure to satisfy your taste buds! Now, if you can't make the trip up to Litchfield County, you're in luck, as Arethusa Farm has a few retail store locations and just opened a new storefront in West Hartford!
Sanctuary Dairy Farm is a 10th generation New England farm that's passionate about making homemade ice cream, yogurts, and sorbets. The family-friendly farm is home to farm animals and offers picnic space.
If you're headed to the south shore of Massachusetts for some summer fun, don't forget to stop at Hornstra Dairy Farm for a scoop of their handcrafted ice cream. The farm scoops out treats from April through mid-October. Don't forget your camera, the on-site wood shingled barn is as picturesque as it gets!
5. Baker Farm – Swansea, Massachusetts
This 6th generation dairy farm is utilizing milk from their cows to create the most delicious freshly churned ice cream! Baker Farm's Ice Cream Barn offers an extensive list of creative flavors, like Apple Crisp and Maple Walnut; along with offering no sugar added and frozen yogurt options to ice cream consumers.
Comment below if you've had the chance to visit any of these dairy farms. As always, please share if you have any recommendations!
Shop This Post:
Thank you to New England Dairy & Food Council for sponsoring this post.